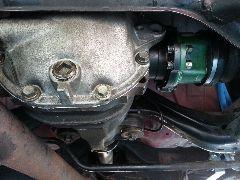 The standard Nissan 200sx S15 viscous diff was never going to last and its weakness showed after about 10 laps of testing at Queensland Raceway . The viscous diff would get hot and loose its ability to Limit the slip.
Whilst the differentials from S13's, S14's and various Skylines will fit there are subtle differences that require other changes to make them fit the 200sx chassis. The other problem is that most of the second hand diffs available are 4.11 rather than 3.7
The Nissan 200sx S15 diff housing has rubber front mounts where as the S13 and S14 are solid mounted. Most S15's have 6 bolt axle flanges where as the S13, S14 and most Skylines have 5 bolt flanges. The 200sx S15 also has a speed sensor on the input shaft.
I believe the axles can be swapped between various models but I could not find any definitive information about swapping the half shafts. The simplest and best option was to find a diff with the right configuration that would bolt straight in.
Feb-2013 : It's taken nearly 18 months to finally track down a "real" LSD Diff with a ratio suited to circuit racing rather than drifting that would bolt straight in. Today we fitted a 200sx S15 Nismo 2 way diff with 6 bolt flanges and a final drive ratio of 3.7:1. It appears the diff can be changed from a 2 way to a 1.5, but i have left it set as a 2 way to see how it goes.
The picture above shows the new diff fitted showing the larger front mounts, 6 bolt flanges and the speed sensor just hidden behind the drivers side front mount.
Feb-2014 : After looking at the IQ3 Dash data it seems the choice of a 3.7:1 diff was not a good idea. :( - I'm now on the hunt for a 4.11 or similar ratio.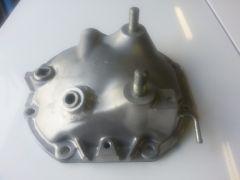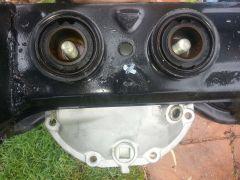 Aug-2014 : That side mounted filler on the rear differential casing was stating to annoy me, its near impossible to get out and there is hardly any room for the oil filler hose to go in. So necessity being the mother of invention I added a secondary filler hole into a spare rear housing which i'll fit next time I have access to a hoist.
Jan-2018 : Yet another diff change, 4.3 with a Kaas 2way LSD, This should improve acceleration considerably and allow me to use more gears.