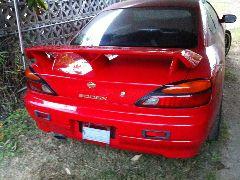 I picked up an original boot spoiler from an add in Boost Cruising, It was originally silver but the panel beater at Road And Track resprayed red.
The car did not run and most of the electronics were out of the car when the boot spoiler was fitted. It did nothing towards making the car go - but - it does look rather cool.
I have also acquired a front bar and side skirts but they can wait until after the car is going.